Home
Roorkee Connection and Beyond
by
Viren Goyal
In the Beginning…
My Roorkee connection started in 1958. One of my high school classmates, then a student at the University, invited me to see the campus and attend the annual convocation festivities. The chief guest was Pundit Jawaharlal Nehru, then prime minister of India and beloved leader of the country. His speech was powerful and inspiring; he was so proud of the engineers who were graduating from University of Roorkee. He said in his speech, "these young engineers are the future of our great nation." I was inspired to join their ranks.
From that moment I started to dream of joining the University. My father, a postmaster in New Mandi, suburb of Muzaffarnagar, encouraged me and enhanced my desire to go to Roorkee. I worked hard to appear in the competitive entrance exam but did not succeed in the first attempt. Some of my classmates were admitted to the engineering school that year, and rather than be discouraged I worked even harder. Finally I was selected by the school to study civil engineering. My dream was coming true. And not just my dream. As luck would have it, I got a call from the university informing me that I had been transferred to Electrical engineering. As Lady Luck would further have it, my younger brother Jitendra was called from the waiting list to join Telecommunications engineering that same year.
Thus began our life at the University of Roorkee (UOR). My friend Binni has described lots of incidences that are common in our lives. It is so because we spent so much time together. Rather than repeating what Binni has described in his inimitable style, I will describe some other incidents that stick in my memory 43 years after graduating from UOR: no small feat! These episodes are not in any chronological order, since with time the chronology has faded. However some things do not fade, and so it is with the brilliant cast of characters, some of whom remain in my life to this day!
Let me set the scene. I was assigned Room S-63 in Azad Bhawan. This was the last wing of the hostel and I was on the 3 rd floor. S-62 was Ram Deo Singh Maurya (Banarsi Babu); S-64 was Frank Makan; S-65 was MK Bhatnagar; and S-66 was Vinod Dhaon. Avinash Diwan, who joined us in our second year, was right across from my room and Arun Mehrotra, who also joined in our second year, was in the same wing, a few rooms down the hall.
S-63 and S-64 had a common balcony. My so-called "balcony partner" was Frank Makan. He spoke to me in English and I always thought he had a funny accent when he spoke English (because he did not have any accent). He used to coach me with my funny accent and taught me new words of English language and their usage. He was fond of English music and used to play Nat king Cole, Peggy Lee and Louis Armstrong, among others. I started admiring this fellow from South Africa and we became good friends. Even as I write these memoirs I have maintained contacts with him. Chronology may fade, but the important things do not!
Before I go on I must thank Binni and acknowledge his wonderful descriptions of our mischievous activities together. I recall teaching him how to ride a bike during Civil engineering survey practicals in the field. I recall the sympathies I received from Prof. YBL Raina when I showed up with a shaved head at one of the final exams: Binni has described it very well. Binni has also done a good job in describing the false impression of being a brilliant student in Professor S.N. Roy's lecture classes. I also recall having walked to Haridwar. I was with buddy Avinash last week in his New Jersey home and he provided some more details of the memorable march to Haridwar…
The Bandits March to Haridwar
Our walk to Haridwar during our first year at Roorkee was perhaps the highlight of the year. As far as I remember the walkers included Pantji, Binni, Mull, Baij, Niranjan, Avinash, Jitendra, Viresh (one of our friends a year behind us in school), Harshu, and yours truly, Viren Goyal. Starting around 9 PM, the troops assembled by the canal bridge downtown after relishing Special Friday treat at the ES mess. We walked along the road on the left bank of the canal. It was a cold night and the moon shone brightly. We had heard there might be wild animals along the banks of the canal in the surrounding woods, so we decided to carry thick sticks to ward off the wilds. As it turned out, we were the only animals on the banks that night!
Since it was a cold a crisp night, some of us decided to wear monkey caps. In addition to providing protection from cold, the monkey caps made us look suspicious, and with sticks in our hands we looked more like dacoits/terrorists on a mission than the future India. It was a long walk, and we had hardly walked a mile and a half when Avinash, not wanting to continue, faked a pain in his chest. Being the friends we were we got worried and decided to send him back by hitching a ride on one of the trucks going to town. Just then we saw a truck approaching and all of us started waving frantically for the truck to stop. The truck driver, mistaking us as gundas/robbers from our attire and the lathees in our hands, accelerated and raced past, pushing us to the edge of the road covered in dust.
We tried the same thing with two or three more trucks to no avail. Then our fearless leader Pantji suggested the following: as soon as we see a truck approaching us from a distance only one person should wave for the truck and the rest of us should hide behind the bushes on the slope on the side of the canal. Brilliant idea…in theory. We neglected to take into account the fact that the truck driver could see us from far away as small dots moving with some activity. As he came a bit closer, he could see that some of the dots disappeared and went into hiding. This made them sure that a robber's gang has gone into hiding and is trying to rob the truck by sending one person out to stop the truck. With this in mind, the driver sped past us at over 100 miles per hour, leaving most of us in the dust once again. The brilliant idea of Pantji backfired. Of course we tried the brilliant idea one more time before giving up.
Avinash Diwan, always so considerate for others, relieved us of our agony and decided his chest pain was gone and he was ready to resume the walk with us. Avinash was and still is such a sport. What a lovable guy. So we continued with our march. We enjoyed fresh squeezed sugarcane juice and semisolid gur. The juice and warm and the gur gave us much needed energy for the long March. To make a long story short, we eventually reached Haridwar and had no strength left to cross the bridge to Har KI paudi on the other side of the Holy Ganga River. I recall it was very early in the morning and the sun had not yet risen. Most of us collapsed on whatever flat surface we could find. I found a wooden bench on which to lie down and get horizontal. After a few hours the sun's rays woke me up. I rubbed my eyes and thought, "I have died and I am in a different world." For a long time I did not recognize my surroundings and I panicked. I had never been so tired or so scared in my life. I was too young and did not want to die. I never had that feeling in my life and I will never forget it.
Skipping minor details of the march to Haridwar, I remember some of us had blisters and very stiff legs. I recall giving one of my friends a piggyback ride to the bus station. I must have been strong to give some one bigger than myself (every one in the marching team was bigger than me) a piggyback ride after the long March.
Aalu Wali Gali
Another episode that I remember vividly took place during our 2 nd year in Roorkee. At that time there was only one eating-place: The ES Mess. The official address of the ES mess was Aalu Wali Gali. The origin of this name came perhaps from the fact that every day there was an aalu dish on the menu. One day it was aalu gobhi, the next day for a change it was gobhi aalu. Some other day it was Rasha aalu, the day following that was khushk aalu accompanied with aalu raita, and so on and so forth. Nonetheless, the most enjoyable part was sitting at the table with friends, BSing and having light conversation.
One day Pantji, Binni Mull, Avinash and I were having breakfast in the ES mess. Pantji was at the head of the table and had a grand view of the rest of the dining hall. All of a sudden we see about a dozen or so of beautiful young girls being escorted towards a table past our table. It was a rare and mouthwatering site as we all were sex starved and rarely got to see real-live beauties. It so happened my younger sister Abha was in the lead. She is good looking and has a very fair complexion. At precisely that moment Pantji had started to butter a toast. Before you know it, Pantji lost his concentration looking at my sister and other girls, forgot where his toast was, and instead buttered his entire hand! Only once the girls passed b did we all realize what Pantji had done and had a good laugh. However, as they say, all's well that ends well: Pantji married the most beautiful girl from the hills also named Abha.
Another episode that I recall was the election fever for the post of Drama Secretary. My friends prompted me to be on the ballot despite the fact I knew nothing about the theater or anything close to it. The reason my friends and I were interested in the post was the treat of fried cashews available at the rehearsals for the annual day function. The drama secretary had to approve the expense. At any rate, the canvassing started with the full support of my friends. In the heat of things I decided to shave my head. My opponent was a friend and very talented boy, Johnny Johnson (JJ). JJ was a good singer and even taught me the song: " A wop bop a loo bop a lop bam bam…tutti frutti, oh ruti…" Anyhow, the election campaign was in full swing, and then a few weeks before the voting I was surprised to learn that Johnny withdrew his name from the ballot and I was to run unopposed. The rest is history. Even to this day I do not know why he withdrew from the election. He was an entertainer and I wonder where he is these days…
The Great TOPO
It's time to get down to business; I must write about the TOPO process. I can relate this very closely. Each one of us had different needs and methods for TOPO process. Let me now describe my reasoning and modus operandi.
The curriculum required all of us to have tutorials. In tutorials, we were taught in smaller groups and could ask tutors questions. In turn tutors gave us pop quizzes and homework. Homework was very troublesome for some of us because we were graded on the basis of timely submission. And while some lived for completing the assignments on time, others depended on such people. I found myself in the latter group. Pantji was sloppy and would complete his assignment only a day before the submission deadline. It took him less than an hour to finish any assignment. Pantji was a friend who always willing to help you out. But the problem was that only Pantji could read his own handwriting. It would take us longer to copy his homework than it took him to complete it! Binni, also a good friend, came to our rescue. He mastered the art of understanding Pantji's writing (chicken scratch) and would reproduce it in his neat writing style, saving us time and again. My Azad Bhawan neighbor Avinash also rescued me many times.
Having explained TOPO work, let me come to the final exams. There is no TOPO of answers possible; we were of our own. You performed or you flunked. Having recognized that, at least a month before exams all extra-curricular activities were grossly reduced close to suspension. I for one solved each and every tutorial question with the help of homework submitted in the past. Some friends like Avinash, Mull, Pantji and Binni helped me understand concepts, etc. This prepared me, and many others like me, for the final exams. Finally with TOPO support we did it and graduated.
How to Stay Awake
Speaking of preparations for final exams, MK Bhatnagar (MK) my next-door neighbor, used to study all night. He came up with the amazing idea of standing up to study and not fall asleep. Sometimes it worked. Sometimes. One day we heard a big bang. Everyone rushed to the room where the sound from came to discover that MK had literally fallen asleep while studying standing, and hit the floor. With MK's physique in those days you can only imagine what kind of noise it made when he hit the floor.
Some of us found an easier way of staying awake. We would walk to a beat-up shack in town where Mohar Singh owned and operated a teashop. He was very popular with the students and understood their needs. He had hot tea ready for us at 2:00 AM along with fried pakodas etc. The place was affectionately called Café D'Amor.
This reminds of the tea club we had in each hostel. I recall Mull, Avinash, NK Dawan, and MK belonged to this club. Can you believe we had a common servant to clean the rooms, wash underwear, polish shoes, and make tea, etc? Yes folks, we changed our underwear every day. Most of us were on a small budget. We had tea and samosas every day after afternoon siesta. Most months our servant Shiv Singh would run out of money to buy milk and samosas for us. At that time he went from servant to banker and kept us fed with the tea and samosas we could not survive without.
We had so many great times at Roorkee, but we did some growing up too. I remember the following moments when I learned that…
Not all Jokes are Funny
One day, after returning to the hostel from classes sometime in 1962, my brother and I saw a telegram that read: Mother died come home….signed Father. We both got the shock of our lives; we started crying and ran to the bus station. The bus took what felt like an eternity to reach Muzaffarnagar. Right across the bus stop was a restaurant called Liberty, owned by my one of my cousins. When we stopped there, he was laughing and attending to a customer. He asked us why we were crying with swollen eyes and faces. When we told him about Mother he informed us she was okay. Needless to say we both went home, hugged our mother, and cried some more. Our beloved mother passed away last December at the amazing age of 96. God bless her soul. This was a very cheap and cruel prank played on us; some one must have tried to get even with me/us for something much milder we might have done. We have forgiven the person, whoever they were.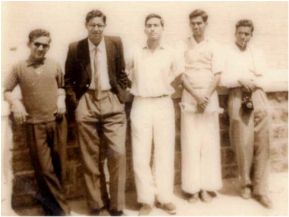 Also, while in Roorkee, we were very fond of Sunil Saksena. He was popularly known as "Sexy." He was full of humor and we always enjoyed his company. When we went for one of the NCC camps at Ghorakhal he and I were in the same tent. The two of us concocted the Adlakha chant. I think it was Sunil's brainchild. Whenever we had to go out of the tent for our morning rituals, and were asked, where is so and so, the answer from Sunil and the rest of the gang would be that he has gone to Adlakha. Those days we thought it was funny and realized later in life that it is bad to make fun at someone else's expense. I take this opportunity to apologize to Adlakha for doing those silly chanting.
The Grand Cast of Characters
As you see from this memoir, a colorful cast of characters surrounded me during my time at Roorkee. Allow me to reminisce…
Good Advice from Gautom Soni
My good friend Gautom Soni was a well- built, tall individual and I was among the shorter ones. He was a funny guy and always had an arsenal of funny stories and limericks. One of the funniest I recall even today was Carter the Farter. I think it went something like this:
There was a man named carter
By God he was a farter.
When the wind wouldn't blow,
And the ship wouldn't go,
Carter the farter would start 'er.
He had so many funny ones. Somehow he too became an illustrious backbencher. He was very fond of pastries. Sometimes, when lectures became boring, he would wink at me the signal: lets get out of here. So we would skip out to the pastry shop. He apparently had open credit at the pastry shop and we would enjoy one delicious pastry each. Obviously one was not enough, and he would ask me, if I had a chawanni handy, which was his indication to chip in and buy one more each. Later during our stay in Roorkee he disclosed to me the art of borrowing. He said, never borrow a large sum from one person. Instead, borrow smaller amounts from more people. People forget smaller sums and chances are, they would be too ashamed to ask for a chawanni or a rupee back from you.
Teen Patti and the Musical Stylings of Niranjan Sinha
Niranjan Sinha, now this guy has a great sense of humor. One day we were playing teen-patti for money in our dorm. Niranjan had lost all his gambling money, and asked one of us for a loan so he could to continue playing. The person goodheartedly refused. This prompted Niranjan to sing in his inimitable voice, completely out of tune, "dost dost na raha." Needless to say, the money was eventually loaned to him and we continued our teen-patti. Whenever I hear this song it reminds me of buddy Niranjan. Fond memories…Indeed, as I type this note the radio is playing "bachpan ke din bhulaa na dena…" I would sing, "Roorkee ke din bhula na dena." It is nostalgic.
And the List Goes On…
I remember Ashok Nagrath talking about the facts of life whenever we would meet with him. I remember Sudhir as a shy young man who would cover his mouth while laughing. He still does that. I remember Pantji as forward humping role model, and Binni as a nail biting (his own nails) person. Binni was also very fond of mock drumming (like tabla) to any tune he would hear, no matter where. Whenever I would try to do the same, he would coach me in the right technique. He has not changed. Mull, an easy-going and very pleasant person, showed glimpses of humor regularly. One day he was in my room late in the evening, perhaps very tired, and murmured, half sleep, "next time I go home to Lucknow by train; I would take a sleeper class."
I also remember Avinash as my neighbor in the hostel: a guy full of humor. He was my coach and taught me how to be funny, win friends and influence people. I leave it to you decide if coaching was a success. Avinash was a very good singer in those days, however, he could sing only two songs. His #1 favorite was Man Tarphat Hari Darshan Ko Aaj and his #2 favorite was: Preetam Aan Milo. This reminds me of a class function for which Avinash, Mull, Binni, and I formed an orchestra. The tune selected by us for the orchestra was Be Karar Kar Ke Hame You Na Jaaia, Tumko Hamare Kasam Maan Jaaiya. It was a popular tune with easy rhythm. Mull was on flute; Binni was on drum beating the desk; I was following Binni's beats by shaking key bunch in a glass tumbler; and Avinash lent his voice. Forty years later, Avinash has stopped public performances; Mull has to be prompted to play flute; Binni still pretends to play drums; and lastly I am often reminded by my wife to stop beating the table to make it sound like drums…it gives her a headache!
Beyond Roorkee
After leaving Roorkee, I tried to maintain contacts with almost all my friends. In those days there was no e-mail; phone lines were noisy and prohibitively expensive. I used the faithful old Indian postal system. I hooked up again with Niranjan Sinha in Bombay where he used to stay with his Mama in Malabar Hills. I also spent some time with Ashok Nagrath, who had joined IBM as a customer service engineer. He used to visit us at my brother's residence on Nepean Sea Road. Shortly before leaving for USA we got to meet Nirmal Duggal and his wife Saroj. Nirmal had joined Air India as a flight engineer. It was in Bombay that we met Ramesh Tripathi. He had joined Indian railways. I recall meeting him and his bride at a cabaret performance in a club called Blue Nile. At that time I was the only one married person from the Topo Group. You can tell as all of my reminiscences have changed from "I" to "We"!
We had lot of interaction with Harshu, Subhash C. Kulshreshta and Harsh Vardhan Nagia (Mechanical - he had joined Bhabha Atomic Energy Institute). We would meet almost every weekend, go out to the movies and dine out. It was fun.
Harshu suggested I write something related to my honeymoon because he had heard the story many times and each time it was the same, so it must be true. So here it is…
Trouble in Paradise
I got engaged to Neerja in 1965. It was an arranged alliance between two families. I "dated" her for two years before taking the vows. The dating was Indian style. I could call her on occasion, write to her regularly, and visit with her at her parent's house on occasion. While visiting her, we were allowed to go out with a chaperone, which usually was her pretty younger sister, who could be tricked, or so I thought at that time. Of course I learned later in life she was being very understanding and accommodating. We got married on January 16, 1967, perhaps the coldest day of the decade in Muzaffarnagar, my hometown.
Soon after our marriage, we decided to go on our honeymoon. I had saved 500 rupees for the honeymoon. The destination was Kashmir. I wanted to keep this a surprise for Neerja. I had seen too many Indian movies, showing Indian hero and heroines wearing lightweight clothes in the snow and running after each other singing romantic songs. It never struck me to pack warm clothes or suggest the same to my bride. I bought two first class train tickets to Pathankot. As luck would have it, we were not the only passengers in the coupe. We reached Pathankot and took a bus ride to Shri Nagar. As the bus started gaining heights and we got closer to Shri Nagar, it started to cool down, and then it became very, very cold. The bus station waiting hall had heavy quilted curtains. It was an unusual site but soon I understood that those heavy quilted curtains were there for a reason.
We were immediately mobbed by houseboat operators since the heavy winter kept away most of the tourists. We basically had neon signs above our heads blinking, "Newly married couple!" "Suckers!" and "Business Opportunity!" Due to supply and demand, we were able to negotiate price of Rs. 100 for a week, which included all meals, accommodations, and tour guide (the owner/operator of the houseboat). The houseboat was anchored in the river, there was snow everywhere, and all of a sudden the wind picked up speed and hit us like an arrow. I pulled my wife closer to stay warm. All my extremities shrank in this bitter cold weather. I had known and experienced shrinkage in cold, but never to this extent, and never on my honeymoon. I got scared. Man, I was on my honeymoon! I will spare you the other details and tell you once more that ALL IS WELL THAT ENDS WELL.
But I digress. I was discussing TOPO group beyond Roorkee. Specifically, I was speaking of Avinash…
Parallel Lives
Amazingly, our lives paralleled each other's long after Roorkee. After graduation I moved to Bombay to find employment and stay with my brother. Avinash followed two years later when I joined ABB. Avinash also joined ABB. I then migrated to New Jersey, USA in 1969. Avinash migrated to New Jersey as well. I was already working for ABB in USA when Avinash arrived. He too joined ABB. We worked in the same division doing essentially the same type of work, selling stuff manufactured by ABB. We bought houses close to each other. Our first-borns were born within six months of each other, and our children grew up together. We both attended evening school for four years to get MBAs from Rutgers University while working for ABB. The schooling included at least three evenings a week and Saturday. This meant working on home assignments while flying long hours in planes, waiting for the planes to take off, and in the hotel rooms after a long day's work. We got only one day a week to see and interact with our families, which at that time included very young children. Hats off to our wives, who were so supportive and understanding. It was not easy but we did it. Later, I remained with ABB. Avinash decided to start his own business. Today Avinash is a very successful businessman, with both his kids married and well settled.
The Unexpected Kindness of Mr. Johnny Walker Black
Another incident I would like to share with you involves Harshu our Webmaster, who is responsible for bringing our group so close together. I had a job with ABB as their Regional Sales Manager and my jurisdiction was the West Coast of USA, including San Francisco Bay Area. Harshu lived in the Bay Area and I almost always stayed with him. During those visits we became very close friends.
Our routine went like this: after work we would have some beer or wine (happy hour, and the hours were very happy) at his apartment and then dinner at our favorite restaurant, Fish Market. There we would enjoy the fresh catch of the day with a bottle of wine. We would return to his apartment and the next day I would either visit more customers in the area or take flight to Seattle or LA.
One day Harshu and I were at his apartment ready for our happy hour. He suggested switching to scotch (rather than the usual beer or wine) that fine afternoon. We went and bought a bottle of Johnny Walker Black: so started our happy hour. We started bullshitting and reminiscing as usual, sipping our scotch. Each sip tasted better than the previous one. Before we knew it, it was dark and the bottle was empty. I got really scared and cursed myself, how could I be so irresponsible, my head would feel like at ton of lead, and I would have a hangover of the century. Worst, I had a very important audio-visual presentation to make the following day in front of a large gathering. Completely annoyed by my own lack of responsibility, I went to bed. To my great relief and surprise, I had a very nice sleep and was woken by a wake-up call from Harshu. I was fresh and had no headache at all! From that day on I became a fan of Johnny Walker Black—12 years old. Good brand old scotch will get you out of trouble all the time.
Anyhow, most of our happy hours were spent bullshitting, talking silly, and reminiscing about the Roorkee days. Perhaps in one of those very sessions were the concepts of reunions and TOPOGROUP conceived.
Memories…
I could go on and on but for now let me close the chapter, perhaps I will write some more in the future given a platform and interested audience. It's true, memories die hard. I am often asked why I spend so much time maintaining contacts with my Roorkee buddies. The answer is simple: I cannot help it. Long live TOPO GROUP. Once again, "TOPO KI BINA KIMAPI NA SADHYAM".
LOOSE ENDS
A few words and terminologies that I learned and are typical of Roorkee University of the 1960s:
MUGGHA : A Bumpkin
DHUR : A Fool
CHAUWAN(54): Very Good
GMD : Screwed
KLPD : Cannot easily explain or even explain what the initials stand for. It implies letting one down.
LASSU : Brownnoser
MAHA LASSU : One who is a habitual brownnoser.
The following nick-names have been used in my write-up:
* MULL is Arun Kumar Mehrotra
* BINNI is Virendra Kumar Ojha
* BAIJ is Gopal Krishna Bajaj
* HARSHU is Harsh Vardhan Pande
* NIRANJAN is Niranjan Kumar Sinha
* AVINASH is Avinash Chandra Diwan
* MK is Mahendra Kumar Bhatnagar
* PANTJI is Anant Kumar Pant
* SEXY is Sunil Saksena
* GAUTOM is Gautom Soni
"Where are they now" for some of the names mentioned in my memoirs…
Avinash Diwan is still active in business ventures and is a big industrialist making his home in New Jersey.
Jitendra Goel is still working with Raytheon Corporation and lives in LA area. He is also a fellow of IEEE. He plans to move to Gurgaon in three years, where he has bought a property.
Harsh Pande lives in Kalamazoo, Michigan, USA now after living for over 35 years in the San Francisco Bay area. He has retired after working in the computer indudtry in USA. He maintains the Topo Group website and plans to shuttle between US and Lucknow. He got married to Indira in 2008 and they have a nice flat in Lucknow. Update: They moved back to India for good in October 2013 and live in their flat in Lucknow.
Sunil Saksena has retired from active employment a year or so ago and shuttles between his US home in Connecticut and his condo in Gurgaon. He retired as top executive VP of a leading US bank and was in charge of Far eastern Operations.
Anant Kumar pant is still actively employed and works as a Director in Charge of Birla Institute of technology in Bhimtal.
Sudhir Kumar Tyagi retired as Chief Executive Officer (CEO) of a large Corporation and now lives in Gurgaon.
Arun Kumar Mehrotra retired as General Manager from GEC of India, lives in a beautiful condo in Indirapuram near Delhi.
Niranjan Sinha retired as Chairman/MD of Instruments India and lives in his ancestral home in Bhopal.
Karam Hussain Khan retired as some top official (General Manager?) Indian Telephones and lives in a large house that he has constructed for his clan in Noida near Delhi.
Ramesh Bhushan also retired as one of the top brass of Indian Telephones and lives in a four story house in suburbs of new Delhi.
Virendra Kumar Ojha retired as Chief Engineer from UP State Electricity Board and lives in a specious home in Dehradoon.
Bal Krishna Narang worked as one of the top executives for Xerox corporation for many years and now works for a consulting company in Rochester, NY area.
Ashok Nagrath has his own business in IT field, specializing in automation/telephones etc. He is considered as an expert in this field having pioneered the phone automation system in USA. He lives in a beautiful home in Somerset, NJ
Viren Goyal : Retired after working for 35 years in USA, mostly with ABB in the field of sales and marketing, now lives in a modest condo in Gurgaon.
IMPORTANT NOTE: This information and other portions are written from memory, which has started to blur a little. Members are welcome to make corrections where facts do not match the description.
Updated Oct 21, 2014